~Rat 'n Rave News~
May 20, 2006-
RnR is proud to announce the arrival of
AZUR Spiker of RnR & AZURE Twilight Woods of RnR
Thanks Val! We love them!!
Photos coming soon.
March 27, 2006-
RnR Primrose ex RnR Mario Ratdretti
Announce the birth of their new family. Final count: 6
Photos coming soon.
March 12 2006-
RnR Lithium ex RnR Mario Ratdretti
Announce the birth of their new family. Final count: 9


Feb 2006-It's Official!

Thanks to Kirstin of FarStar & Val of Azure, it has been proven that our line of "chocolates" is indeed, UK Mink. It has been a long ride that has frustrated a lot of us trying to figure out what color we have been dealing with all these years. See Chumley's breeding chart for more information on what we have encountered over the years. UK Mink is NOT compatible with American Mink. Thank you so much Gals! Val, the babies are gorgeous!!
Photo compliments of Val-Copyright 2006-All rights reserved


Meet our newest addition!
Cove Azur Orchid of RnR
05COVE0156/02F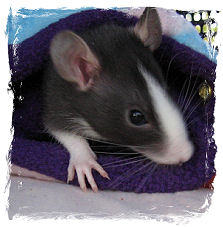 Thank you Sarah for entrusting us with this special little girl.
She is such a charachter!
RnR Mojo
05/04/2005-10/24/2005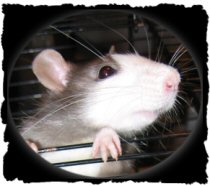 Mojo was a victim of late onset megacolon. She developed symptoms 10/21/05 and was euthanized 10/24/2005 after attempts to relieve impaction failed. Mojo developed severe diarrhea after being fed unknowingly rancid bulk food about 4 weeks prior to onset. Once her diet was changed, diarrhea disappeared. 3 weeks later, she developed symptoms of megacolon. Whether the food was a contributing factor or exasperated the disease, we do not know. Good Bye sweet girl. You were so very loved and left a big void in our hearts.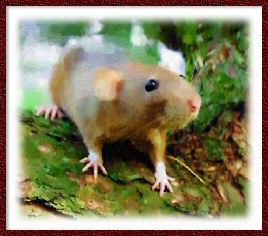 RnR Pogo
07/27/2003-08/04/2005
RnR Pogo has died. She suffered a serious stroke Thanksgiving day, 2004 but survived. She did very well but had some nerve damamge to her hind quarters. This did not slow her down very much once she regained her strength. Unfortunately, it was another series of strokes on the 4th of August, 2005 that ended her life. Her sweet nature and loving personality will be missed for a long time to come. Click here to read more about her story and more about strokes.